Ara staff use design thinking to integrate 'graduate attributes'
On October 1st, Ara institute of Canterbury staff went off-site to participate in a 'Design Dash Ideas Generator'.
Conceived as a 'taster' design-thinking experience, the day-long event, held at Christchurch's central library Tūranga, was designed to introduce Ara staff to some of the activities of a longer 'design thinking' process, which typically moves through a number of stages.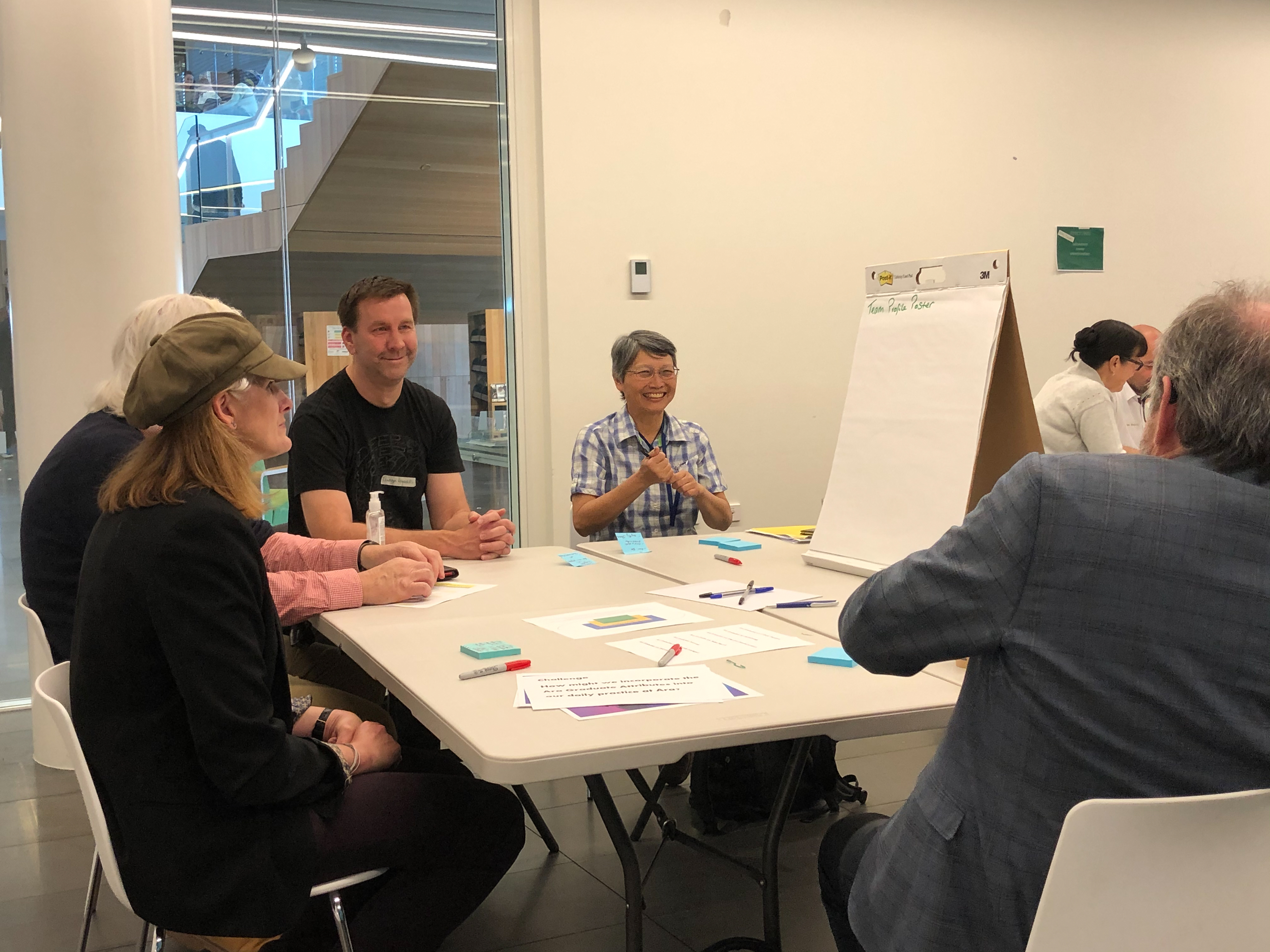 The day was also part of Ara's annual 'Kick Off' series, an institute-wide programme of learning and sharing opportunities designed to expose staff to the latest and best ideas and practices currently impacting upon their profession.
'Design thinking' has been proposed as a route towards transformative thinking and revolutionary change, or as an approach that can help to unearth insights and opportunities that move organizations towards iterative change.
Groups globally, including governments, tech companies, manufacturers and health-care organizations have been using design thinking or processes for a number of years to enhance creative collaboration and to effect positive cultural change; both of which can come about either incrementally or disruptively; but the aim generally seems to be to encourage organizational innovation.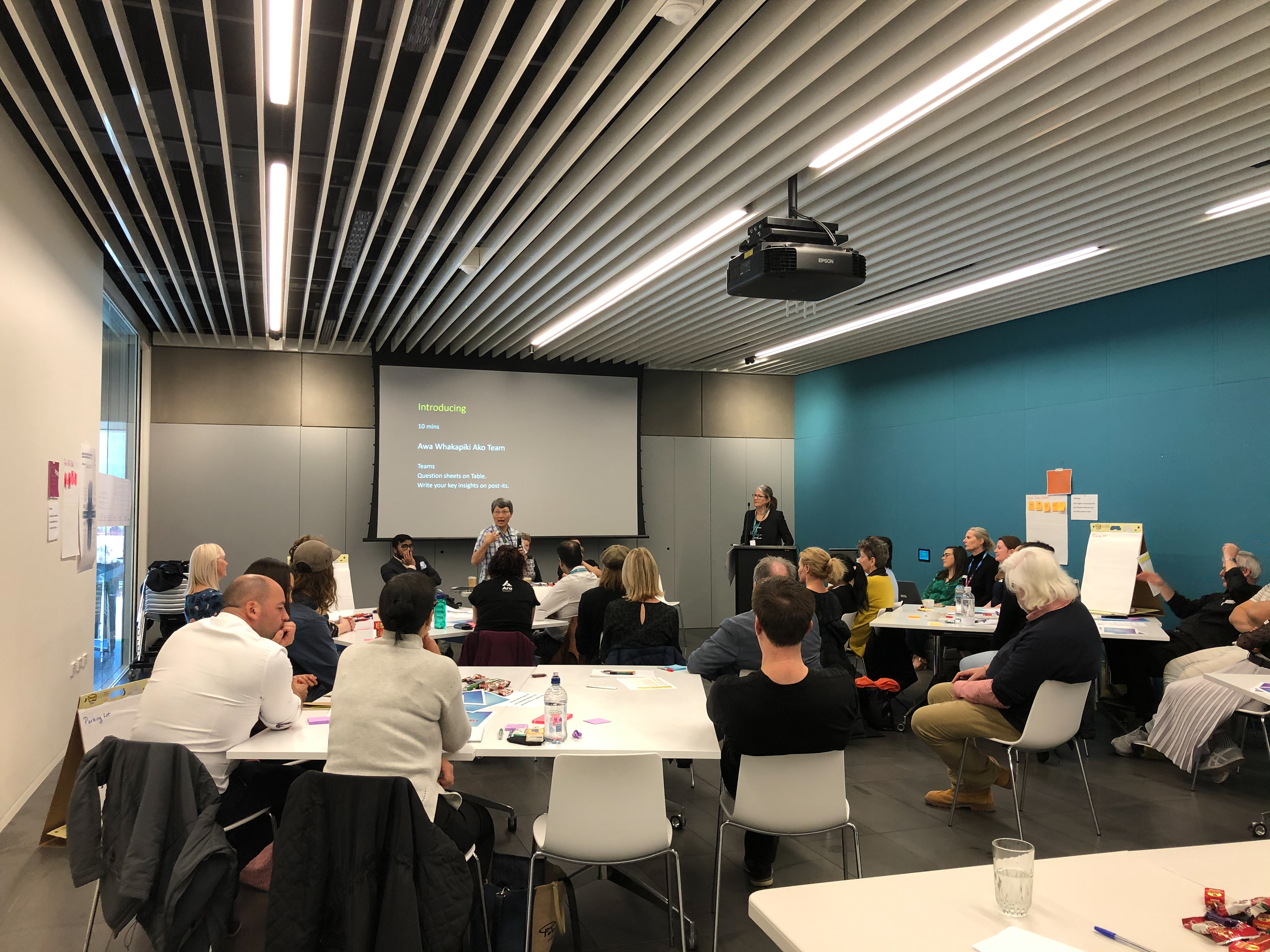 Tracey McGill, Ara Innovation Manager and creator of the event, says "The essence of Design Thinking is to encourage creativity and risk-taking. It encourages organizations to be more attuned to their own people and culture while also drawing in important insights about others outside of the organization. I like to think that I'm helping my colleagues to use their experience, wisdom, and intuition to frame real problems and then create and enact innovative solutions."
For Ara, the day was conceived as a way to facilitate learning and co-designing through a range of team activities centered around the 'Ara Graduate Attributes'.
The challenge that Tracey was inviting her colleagues to focus on was how best to understand graduate 'profiles and attributes' and the need for tertiary organisations to have a clear understanding of what these are and signify. Questions she asked at the outset included 'how do we measure graduate attributes at Ara? What can all Ara colleagues do to help learners achieve the graduate attributes and/or graduate profile?
This was all distilled into the 'The Challenge Statement'; namely, 'how might we incorporate the Ara Graduate Attributes into our daily practice at Ara'?
Tracey commented "An Ara Design Dash uses the design thinking process to develop an understanding of the people for whom we're designing our products or services for. It helps us observe and develop empathy with the user. Design thinking is not all about thinking; it is more about doing and making, rather than thinking and meeting. It involves a valuable set of skills that can be applied to any process at Ara."
Attendees were divided into groups, each of which was a variegated mix of academic colleagues and people from other areas of the Institute, including administrative, marketing and management personnel. Groups were then encouraged to consolidate their team identities and focus on the issue at hand with the help of a range of visualization and collaboration tools, which included sticky notes, coloured pens and large paper pads for 'parking' ideas on.
Harvard Business Review summed up the process in an online 2018 article entitled 'Why Design Thinking Works', saying that "The focus on possibilities, rather than on the constraints imposed by the status quo, helps diverse teams have more collaborative and creative discussions … the set of key features that an ideal innovation should have. Establishing a spirit of inquiry deepens dissatisfaction with the status quo and makes it easier for teams to reach consensus throughout the innovation process."
Tracey echoed this in her initial instructions to the whole group, reassuring them that they didn't have to know the answers to the questions being posed during the Design Dash. She stated that the only essentials were an "open mind and a willingness to work collaboratively within a diverse team. By participating in this process, you will not only be part of co-designing solutions to problems that will transform the Ara learner experience, you will also have the opportunity to connect with other colleagues and practice new ways of collaborating together."
This certainly proved true, with a number of teams identifying the need for easier and more fruitful ways for different departments to work together and provide opportunities for students to collaborate with others learning in other areas during their course of study.
One attendee commented "As well as getting the chance to meet people from other departments that I'd never had the opportunity to interact with previously, the whole day was a way for me to think without restraints about new problems and their solutions, so I feel that it was highly productive for me."
The ideas resulting from the day are going to be analysed by Tracey and selected others, then passed for consideration to the Institution's leadership team.