5000th test taken at Pearson Test of English Centre
The 5000th PTE Academic test has been delivered at Ara's Pearson Test Centre, located next to the School of English. Thousands of English speakers have been assessed for official purposes since the centre opened in January 2019.
Monika Gounder, a teacher from Fiji who is seeking her New Zealand teacher registration, completed the 5000th test and left the centre with a bag of Ara goodies and hopes of a positive result. Since arriving in New Zealand three months ago, Gounder has been practising for the test using resources on YouTube.
"One of my cousins suggested that I do it here at Ara," she says. "He scored a 7.5. I found it a bit tough, but I am hoping for the same result."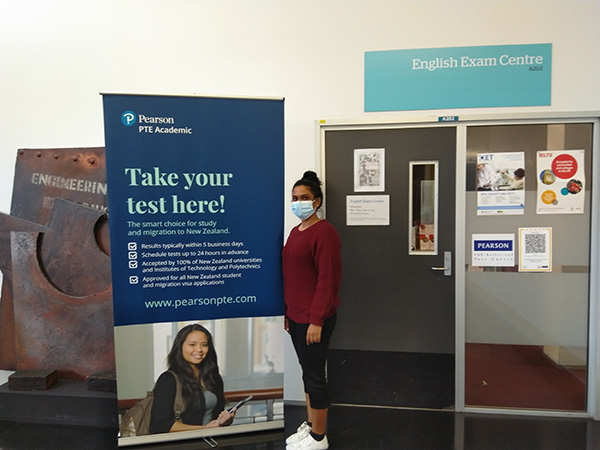 She knew that nerves would get in the way of her oral examination, so PTE Academic, which is computer-based and does not use human assessors like other widely-recognised exams, was the right choice for her, she says.
Heather Knox, Manager of the School of English, says that PTE provides very quick results and the test sessions can be scheduled at any time of the day or any day of the week, making it very convenient for test-takers. "It assesses the skills and knowledge areas in a single test," she says, "which can be a great advantage for people. And the stress levels are much lower since the computer-based tests are run in very small groups."
A range of test-takers use the centre, all of whom need evidence of their English language proficiency for applying, for example, for NZ residency or citizenship, registration as a medical professional, or entry to a tertiary qualification, says Knox.
With New Zealand's borders shut for a year and a half due to the Covid pandemic, Knox says that the lower numbers of test-takers is manageable as test groups are small – a maximum of 10 test-takers per session.
"Like so many other organisations," she says, "we're looking forward to our borders opening when it's the right time to do so."
Ara's English Language School is internationally recognised as one of the best English language training centres in New Zealand, with a range of English courses and qualifications.
PTE bookings can be made at: https://www.pearsonpte.com/